Web Archiving Week 2021
After joining forces with the University of Luxembourg's C²DH, to combine the IIPC General Assembly & Web Archiving Conference 2021 and the 4th edition of the RESAW Conference into one week of web archiving. We are overwhelmed by the number of attendees, who joined our virtual event from 43 countries around the world!
IIPC GA & WAC 2021
4th RESAW conference
There is more information and content to be shared about the conference, so stay tuned for more news coming soon!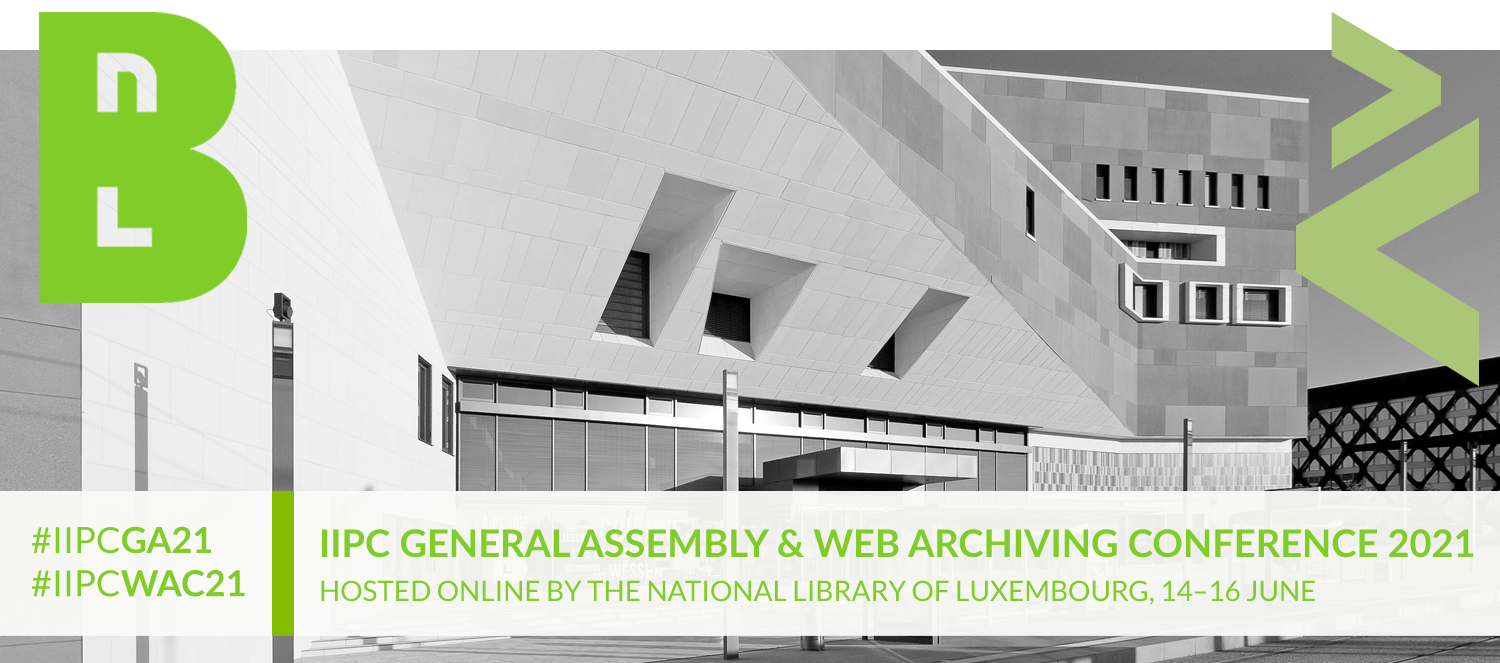 THE NATIONAL LIBRARY IS OPEN
There are different stages to fully reopening our reading room and BnL services.
For more information, visit the BnL website and follow the latest news on Facebook.
BnL.lu
BnL on Facebook
Collection du Covid-19 :
La Bibliothèque nationale a besoin de vous tous pour compléter sa collection
La BnL est en train de rassembler une collection de toutes les informations pertinentes publiées sur la propagation et l'impact du Coronavirus au Luxembourg. Pour cette raison, dans le cadre de sa mission d'archivage du web luxembourgeois, la BnL aimerait demander votre support, afin de capturer tous les aspects de l'épidémie Covid-19 dans notre pays.
La liste des URLs de tous les articles moissonnés sera mise à disposition en ligne, de la même façon que nous présentons déjà d'autres collections ciblées sur webarchive.lu.
Dans la situation sans précédent à laquelle la pandémie Covid 19 nous confronte, de nouvelles initiatives de solidarité et le besoin d'information publique ont mené à la création de nouveaux sites web et plateformes en ligne, répondant aux besoins d'une société cherchant à s'adapter à cette crise. Afin de documenter ces développements pour les générations futures, nous vous demandons de nous communiquer les références des sites web informatifs, pages Facebook et Twitter traitant la thématique du Covid-19 dont vous avez connaissance.
Contact

Comme la situation du Covid-19 continue à faire objet au Luxembourg et aux pays voisins, nous continuons à collecter les sites web en relation avec le sujet. Trouvez plus d'informations sur les résultats intermédiaires et notre interview avec Serge Tonnar:
Covid-19 Collection
Covid-19 collection : the National Library needs your help to complete its

collection
The National Library of Luxembourg is building a collection on all relevant information on the spread of the Coronavirus in Luxembourg. Naturally, online news media are an important part of this collection. Therefore, we would like to ask for your help in capturing all aspects in relation with the Covid-19 outbreak.
The list of all captured URLs will be made available online, in the same way as we have presented several other collections on webarchive.lu.
In these unprecedented times, new initiatives in solidarity and the need for public information have called for the creation of new websites and online platforms responding to the needs of a society adapting to this crisis. In order to capture these developments for future generations, we would like you to share your discoveries of informational websites, opinion-forming Facebook or Twitter pages, civil interest organizations dealing with the Coronavirus.
Contact
As the Covid-19 situation continues to be an issue in Luxembourg an its neighbouring countries, we continue collecting websites surrounding that subject. Find out more about the interim results and our interview with Serge Tonnar:
Covid-19 Collection
This website serves as an information platform about the activities and collections of the Luxembourg Web Archive. Browsing the actual archive is only possible from within the National library of Luxembourg. To find out more, please check out our FAQs.
The National Library collects and preserves the Luxembourg web as part of our digital heritage
Always changing

A common misconception is that the contents of the Internet will stay available for eternity. In reality, 80 % of all websites will no longer be available in the same form, or have completely disappeared within a year. Moreover 10 % of all social media contents are lost every year, showing that the web is not only changing at a rapid pace, but is also short-lived.
A unique source of information
The web is a unique source of information.
With the growing emphasis on digitalization in all aspects of society, more and more information is solely published online, making its distribution and accessibility faster and easier. On the other hand, the lack of physical copies of publications accentuates the dangers of data loss. Relevant information, discussions and data that are not printed or preserved in any other shape or form could be lost, depriving future generations of the sources of knowledge available to us today.
The reflection of a diverse society
From its conception, the Internet has always been centered around a culture of exchange, communication and an open, participatory approach to making information available to everyone. The convenience of using and contributing content on the web, as well as more recent developments such as social media, are adding to the concept of the Internet as an all-encompassing universe, reflecting all facets of society and cultures in the world. All the more reason to preserve a piece of this universe, by archiving the Luxembourg web – not only to ensure the availability of websites, but also to provide a means of analyzing the importance and influence of society on the Internet and vice versa.
Our mission
The National Library of Luxembourg is open to all, presenting its patrimonial collections on a national and international level. Empowering scientific research and facilitating the access to information, the National Library is a pillar of the knowledge society. As a patrimonial library, the BnL collects, preserves and catalogues all publications issued in Luxembourg, as well as foreign publications in relation with the Grand-Duchy. The National Library aims to drive innovation in new technologies and library management as an academic and scientific library. This assignment not only covers printed media, but also digital publications of all kind, including the Luxembourg web.

As a component of the digital legal deposit, harvesting the web ensures the long term access to the contents of the Internet which are publicly available. Overall, the LWA operates in an inclusive, rather than exclusive collection policy, in the sense that the legal deposit applies to Luxembourg publishers, which the BnL interprets as:
All websites in the ".lu" top level domain
Websites published in Luxembourg
Websites hosted on servers in Luxembourg
Websites published by non-resident Luxembourg citizens or websites in relation with Luxembourg
Although these websites are not part of the Luxembourg legal deposit, the National Library might choose to include websites that are relevant to the national digital heritage.
As it is the case for all national web archives, this mandate does not translate to an obligation of completeness, due to the extent and feasibility of these tasks. The legal deposit for paper obliges publishers to hand in their publications to the National Library. In the case of websites, the obligation for publishers is fulfilled if the BnL is able to access and harvest their websites.


Règlement grand-ducal du 6 novembre 2009 relatif au dépôt légal, modifié par le règlement grand-ducal du 21 décembre 2017
Legilux.lu
International cooperations
Participate and contribute
Saving websites is not only a service to the general public but a service to site owners in the first place. If you have a website or contribute content in any form, let us know about it. If you see a website you think should be saved for the future, tell us about it. Using the form linked below will take less than a minute and improve the services of the Luxembourg Web Archive for everyone.
This website will soon also be available in French.
Ce site web sera bientôt disponible en français.